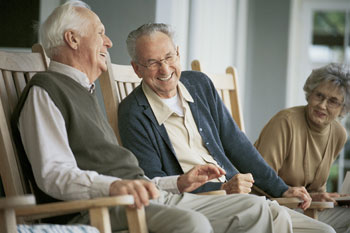 The energy efficient lighting movement is taking hold around the country but nowhere does it seem more needed than in the nation's eldercare and long-term care facilities.
Thankfully, lighting solutions are available, regardless of type or size of the facility, to save energy and boost both comfort and safety for residents.
There are three general types of eldercare facilities:
skilled nursing care – a state-licensed facility providing 24-hour nursing care, room and board, and activities for convalescent residents and those with chronic and/or long-term illnesses
assisted living living – senior residential communities provided with services including meals, laundry, housekeeping, medication reminders
independent living – multi-unit senior housing development providing services such as meals, housekeeping, social activities, and transportation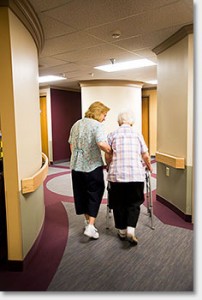 Lumenistics understands the impact of safety and comfort for seniors when making a lighting upgrade decision and helps eldercare facility owners and managers achieve these goals, improving lighting quality while also saving electricity and maintenance costs.
Let's face it, there are more than 65 million Baby Boomers (born between 1946 and 1964) set to retire over the next two decades.
That's a lot of impact on the senior living market, and it shines a spotlight on the necessity for energy efficient lighting solutions to help nursing staff at skilled nursing facilities during nightly rounds as well as improve the comfort of seniors no matter the type of eldercare facility.
Why? Because the two biggest challenges for long-term care facilities are poor sleep quality and falls.
But research shows advances in lighting technology, such as light emitting diodes (LEDs) and automatic controls can mitigate these challenges.

Aging eyes
As we get older our vision deteriorates, which makes it more difficult for seniors to adapt to the dark as well as quick changes in brightness.
Two reasons for this:
as a person ages, pupils get smaller allowing less light to reach the back of the eyes the aging eye's lens also scatters more light, reducing contrast and sharpness of objects, causing colors to appear less vivid
Increased vision loss can also wreak havoc on the 24-hour light-dark cycle, known as the circadian system, leading to negative health effects.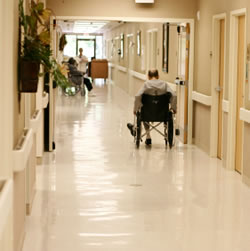 In fact, previous studies show chronic sleep disturbances are experienced by up to 70 percent of people over 65, and are especially acute for those with Alzheimer's disease.
Residents of skilled nursing facilities are constantly disturbed in their sleep by glaring overhead lights turned on at night during nurses' rounds.
Add in the trip to the bathroom during the night that can be challenging for seniors making their way in the dark – boosting chances of falls and injuries – and you have a recipe for increased healthcare costs and less dependency among older citizens residing in independent and assisted living facilities.
Study shows LED lighting as a solution
Check out the 2005 landmark study by researchers at Rensselaer Polytechnic Institute's Lighting Research Center in Troy, N.Y., the leading university-based research center devoted to eldercare lighting.
The study showed the first proof of how advanced, energy-efficient lighting solutions, such as LEDs, photosensors and occupancy sensors, keep seniors in long-term, assisted living facilities safer and more comfortable as well as improve vision for staff during nightly rounds.
A pilot study at Schuyler Ridge Residential Health Care, a 120-resident nursing facility in Clifton Park, N.Y., had researchers install amber-colored automated LED fixtures in four resident bedrooms and bathrooms.
Schuyler Ridge Residential Health Care in Clifton Park, N.Y.
An occupancy sensor slowly was utilized during the night to turn on lights when a resident got out of bed or a nurse walked into the room.
A photosensor was installed to regulate the LED lighting during daylight or when nurses turned overhead lighting on at night.
Before the installation, more than 80 percent of the facilities' residents said they were awakened at night by nurses turning on lights, and they found the glare and brightness uncomfortable.
Three weeks after the LED installation, the residents and staff reported:
LED lighting caused no problems with sleep disturbance or discomfort
motion sensor activation was useful
light levels in the bedrooms were enough for nurses to perform nightly rounds
light levels in the bathrooms could provide more illumination
The results were among the first to demonstrate the need and opportunity for innovative energy-efficient lighting solutions in long-term care facilities.
Burgeoning challenges met with energy-efficient lighting solutions
So what's top of mind for assisted living facilities owners?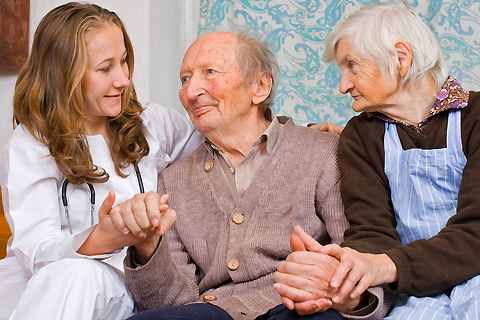 light fixtures that don't flicker or hum such as older fluorescent lights that use magnetic ballasts
dimming and other lighting control systems to provide uniform ambient lighting from one room to another – since aging eyes take longer to adjust to changes in light levels
glare-free light – given the scattering of light the aging eye's lens projects to the brain, which cuts downs contrast and sharpness of objects and causing colors to appear less vivid
LED lights that creates distinguished colors to offset the yellowing of the lens of the eye with age
Don't forget, lighting retrofits always offer assisted-living and long-term care facility owners the quickest return on investment in terms of electrical cost savings.
Contact Lumenistics today for a "walkabout" – our unique approach to an on-site facilities tour combined with a two way Q&A. You'll be better informed, and if deemed appropriate will receive an action-oriented proposal to achieve your money- and energy-saving goals.
Resources used in this article: